Oban 14 Year Old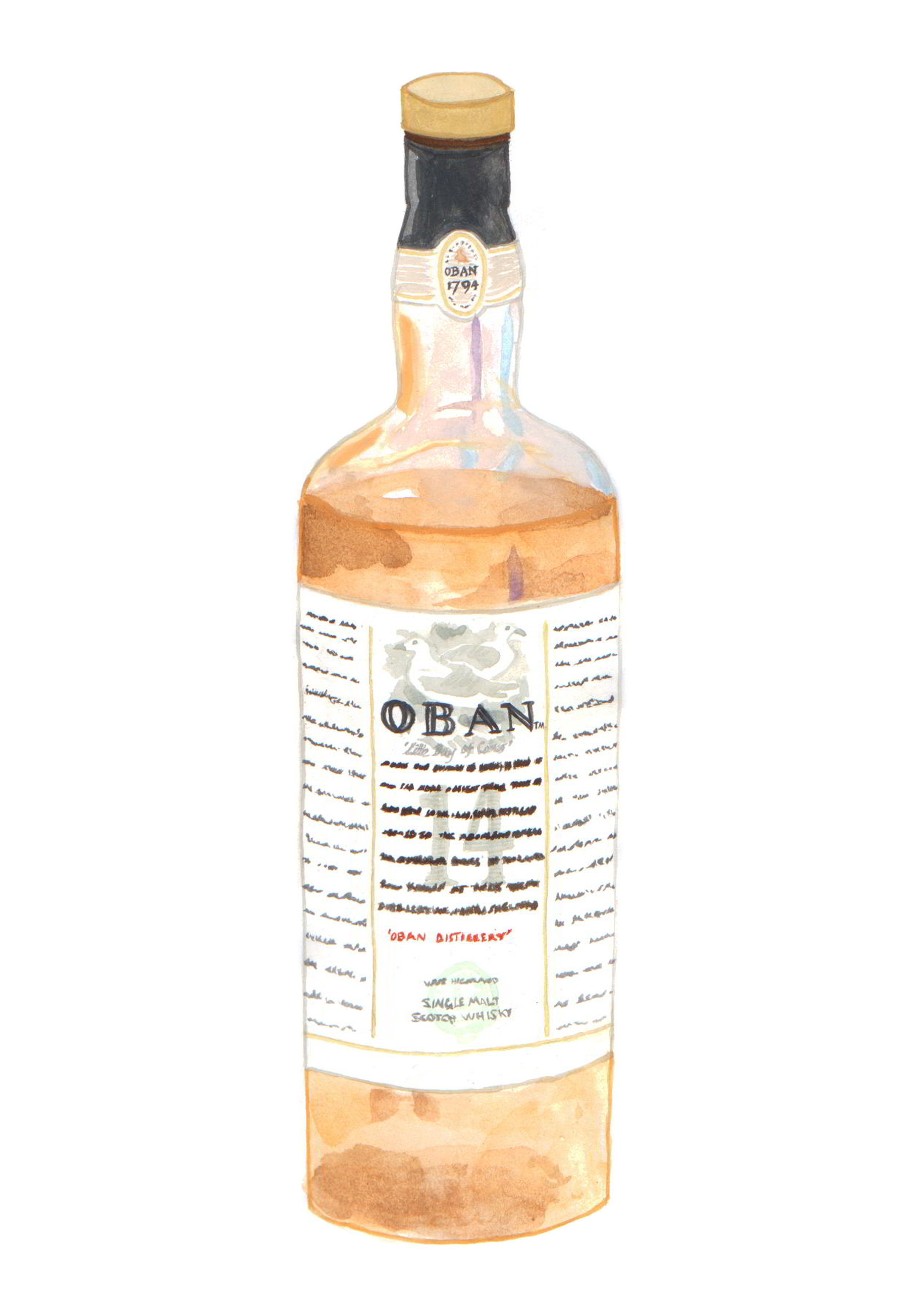 This review originally posted at watercolourwhisky.tumblr.com
The Oban 14 Year Old is widely regarded for its strong citrus flavours, and, well… fair play. The flavour profile is like taking an anachronistic sea voyage, in which the passengers remembered to pack appropriate, scurvy-busting rations.
Right from the start, the nose hits you with citrus and orange peel. Underneath those golden twangs there's a suggestion of heartier, meatier notes: of corned beef, and other salted smallgoods. The citrus is king though – it's less 'marmalade-glazed ham', more 'bacon bits dropped into a glass of orange & grapefruit juice'. That's cool. As a firm believer that bacon makes everything better*, I find this rather warm and inviting.
Regardless, any whiff of bacon or corned beef may as well have been a starvation-induced hallucination, because those proteiny, hammy notes evaporate on the taste. Unshackled, it fully embraces its inner jam, a clove-spiced mix of orange and blackberry, with a slightly bitter edge of peel and rosehip.
That bitterness becomes more pronounced on the finish, beginning as a strong, but not overwhelming surge, cresting to a more mellow mid-section, and settling down to a smooth, warm, lingering end.
The Oban 14, or 'Vitamin C: the whisky', is a rather decent drop. Unfortunately it's one of the pricier whiskies in its band, and rarely on sale in Australia, so it doesn't get to play in my usual rotation. However, if it was on offer, or if I was heading on a 19th Century sea voyage*, I certainly wouldn't say no.
– McBetts
Drink if you enjoy: Your great aunt's marmalade, sea shanties
Don't drink if you enjoy: scurvy
*My family has a history of this happening. One of my ancestors was a convict sentenced to death, whose sentence was commuted to being shipped out to Australia. His crime? Stealing 4lbs of Wiltshire ham. What can I say? It's genetic.