Thirsty Thursdays – Welcome to Thirsty Thursdays / The Princess of Prussia
Hello, and welcome to my life. For those that know me, you may be aware that I've been kicking around the UK for a little while, conspicuously quiet save for the odd snide remark over social media. There have been several reasons for this, which I'll gradually unravel, but Thirsty Thursdays is my way to address this. Where possible, I intend to visit a different pub between my work and home on Thursday evenings, and write about the pub, my experiences living in London, and anything else that takes my fancy (or gives me an opportunity to express my vanity).
A couple of brief facts, before introducing what Thirsty Thursdays shall involve:
I am an Australian living in London. I've lived in the UK before, studying in Glasgow for a year and a half. Probably my main reason for moving back, honest to goodness, is the weather. I can't stand heat or humidity, but I love me some dreich skies, moody, overcast, miserable, foggy, drizzly, wet, cold, bitterly cold weather. I want to stay here indefinitely.
I live in Whitechapel. This is in East London, just outside the city centre. It's such a different cultural experience living in the largest Bangladeshi diaspora in the world, and I hope to make the most of it.
I work for a digital marketing agency. It's pretty brilliant – the work that we produce, the people, and workplace culture. It's just south of Tower Bridge in Southwark.
I get to walk over Tower Bridge to work, which is part of the brilliance.  It's just over half an hour walk door-to-door.
Depending on the way I walk, I probably pass about 30 pubs between my home and work. If I go 5 minutes out of my way, there's probably a hundred. London, innit? Some of them look wonderful, some of them look dire. My first Thirsty Thursday pub is a wonderfully pokey place in a tiny Victorian terrace. A few doors down is an absolutely dire Premiere Inn restaurant/bar.  In the interests of journalistic integrity, I'm going to try and hit them all up over the weeks.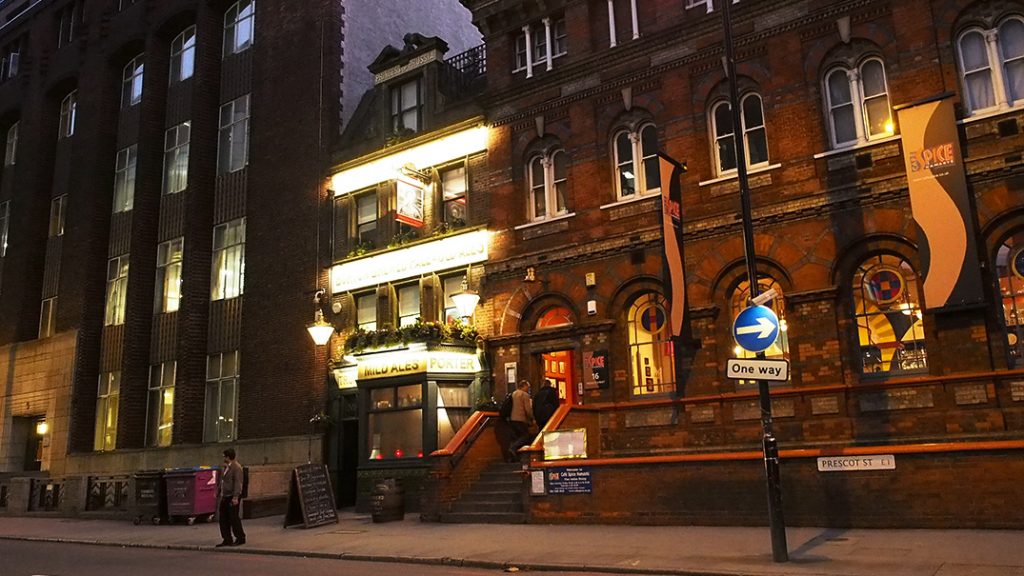 On Thursdays 'm going to take myself to one of these pubs on my way home and not only write about my adventures, but my mundane reality, the everyday and the commonplace of living abroad, switching careers and starting a life somewhere else. I'll also review the pub that I'm in, because, why not?
There are a couple of ground rules for Thirsty Thursdays:
Do it on Thursday – purely for the alliterative value.
Go to a different pub each time.
Sketch something about the bar.
Try as many different beers as you can.
The content can be anything. I'll generally pick a theme or topic and write about that, but it could be anything.
It should be unpolished – almost stream of conscious. It's an excercise in churning out content – quantity, not quality.
One interesting thing I observed today: when I lived in Scotland in 2010, I really wanted to pick up a Scottish accent. I ended up with a very mild British accent 18 months later, but it didn't last long. Vowel sounds in Scottish require such a different mouth shape that you're unlikely to accidentally stumble into it (I used to do a reasonable version if I put it on). However, many English and American accents are so close to Australian that I felt like if I lived in either place for a a couple of weeks I'd pick one up. Well, I was in London for a month keeping to myself (looking for work and trying not to spend money) – I've been in my job for nearly three weeks, and I noticed today I was making very British inflections with a lot of words, quite a lilting sort of cadence. You can probably hear it already. Vale Australiana.
And with that scintillating revelation, welcome to Thirsty Thursdays. No doubt the format will evolve over time, but I have a lot to share about living in London. Looking forward to it. x
The Princess of Prussia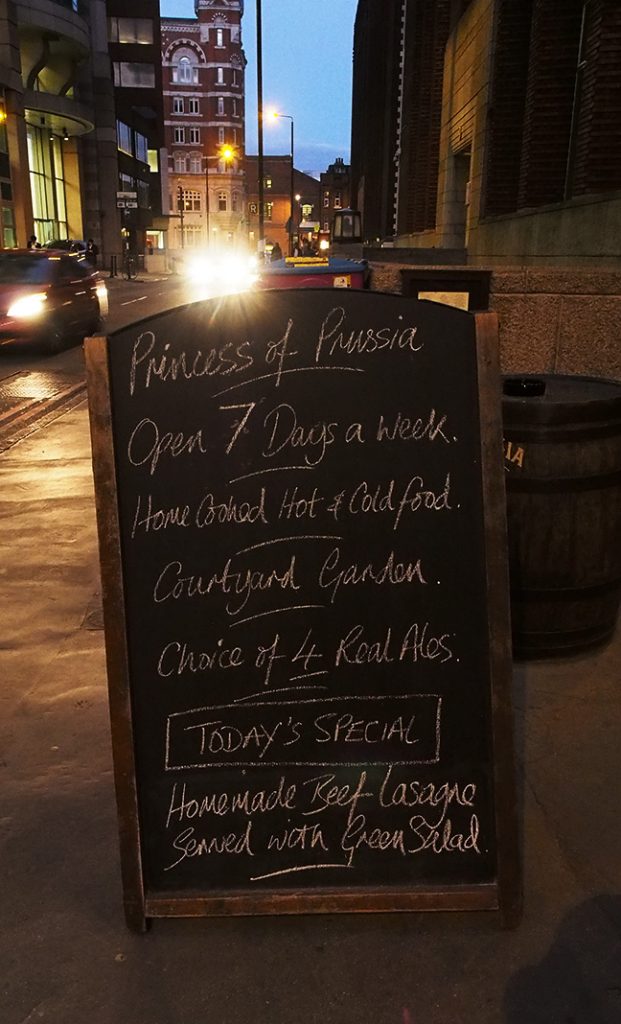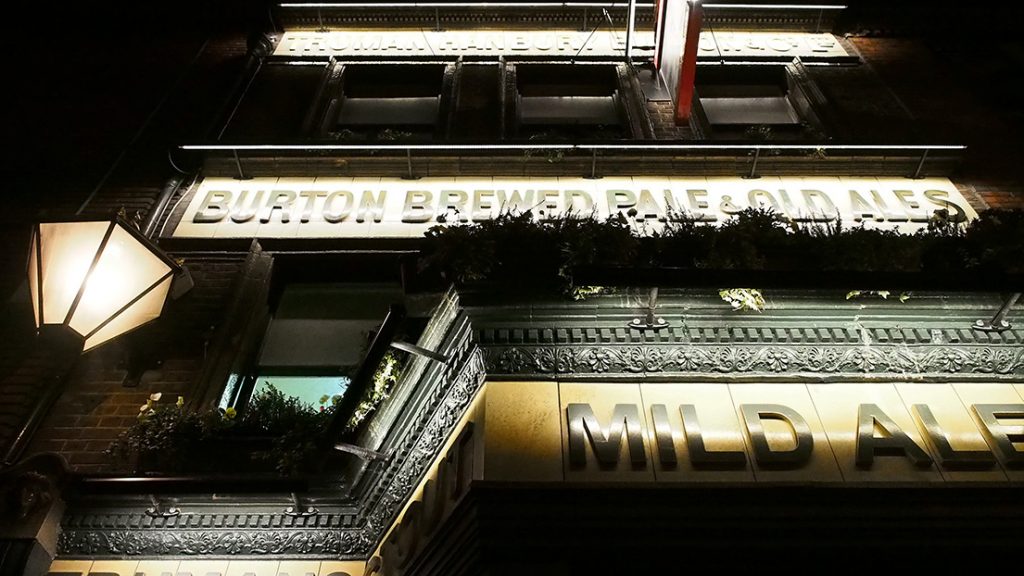 I chose the
Princess of Prussia
to kick off my inaugural Thirsty Thursday because I've wanted to come here since the first time I walked past. It's in Prescot Street, just around the corner from the Tower Bridge (north). It looks like an incredibly cliched pokey little Victorian era pub. It's a terraced building, a tiny sliver, sandwiched between an Indian restaurant and the most incredible Egyptian-styled art-deco hotel which I'll post photos of another time. It sits in a tall, two lane, one-way street that doesn't get much sun. There are quite a few hotels here (being so close to the city.)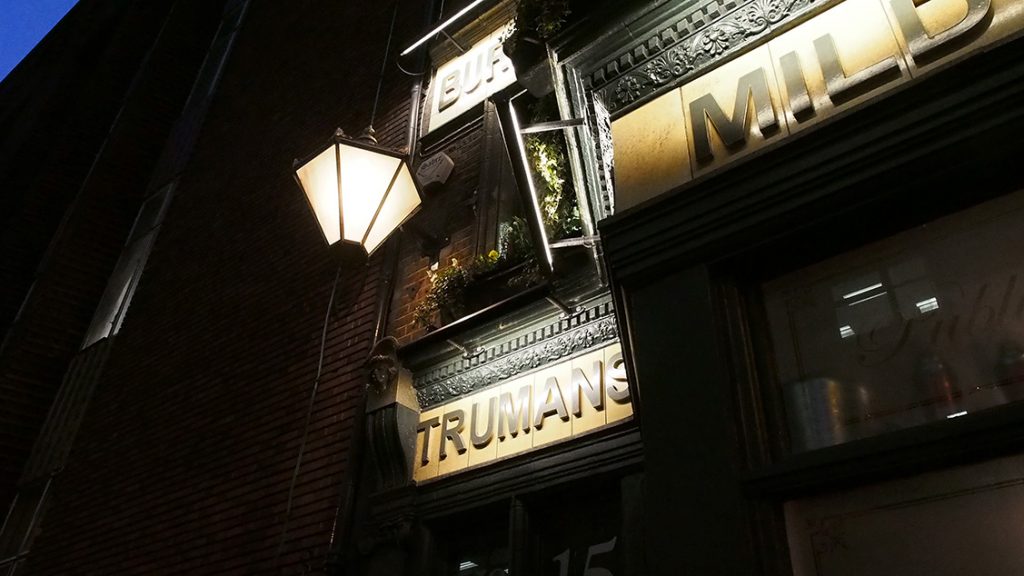 Inside the pub is exactly what you'd imagine, all half-timbered, walls painted red ochre, sconces, leather, material, velvet and cloth. Pretty much every square foot of surface above chair height is covered with interesting, pokey little bits, which give it a real character. It's very charming. The bar too is one of those wonderful enclosed timber frames stacked with glasses – it's intimate. There's a lovely looking garden terrace out the back enclosed in ivy. Metallica's 'Nothing Else Matters' is currently on the playlist.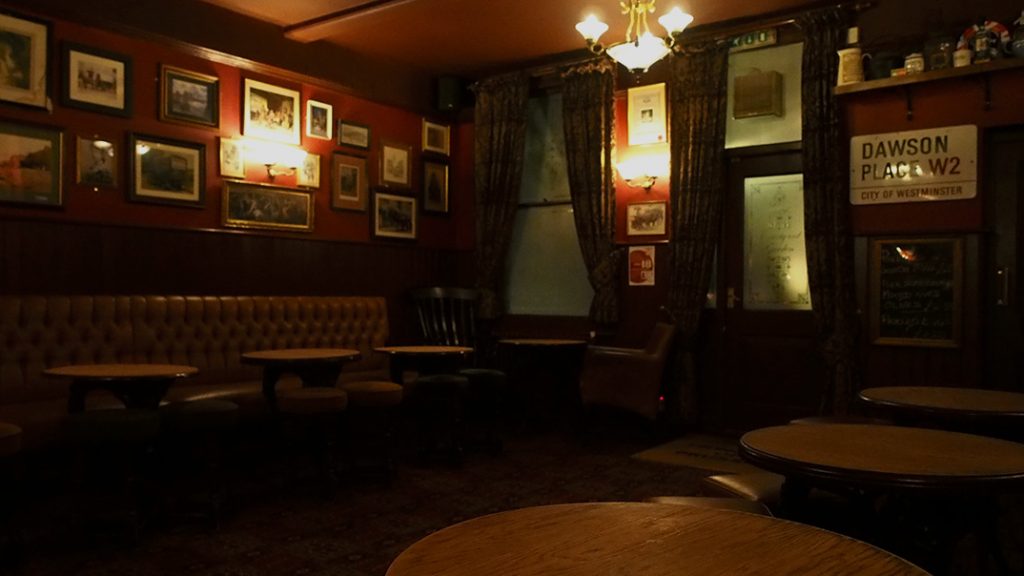 When I walked in tonight it was manic – packed wall to wall with old white dudes in tuxedos. It turns out there's a Policeman's Ball tonight in the area, and they were here for prinks*.
They've all cleared out now and there's maybe 10 customers here throughout the three rooms? Considering I had to practically elbow my way into the back toom, I think a lot of people were put off. The bobbies will return.
Booze selection is fairly generic and uninspiring, all the popular spirits, beers including Asahi, San Miguel, and a few ales I tried (see below). Didn't see a malt collection.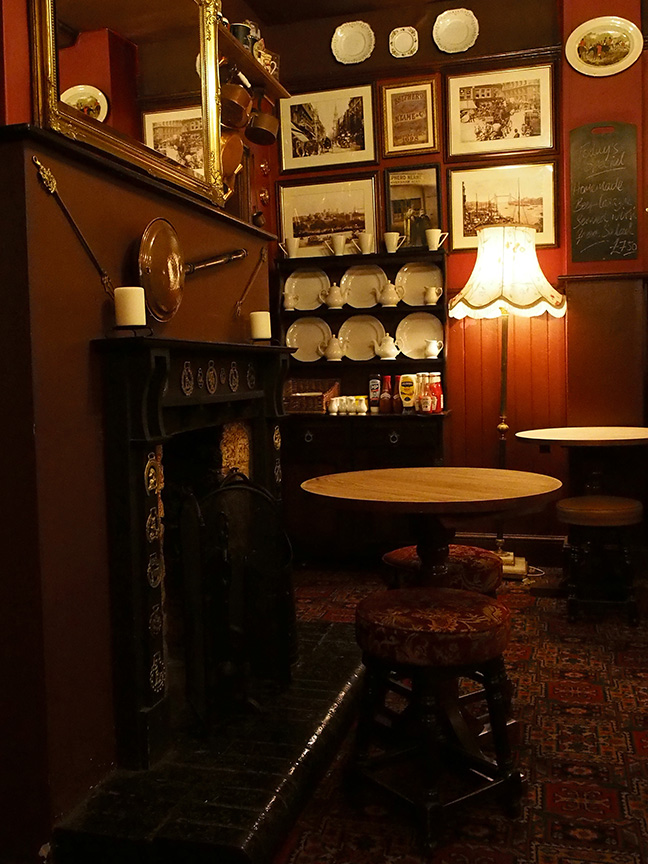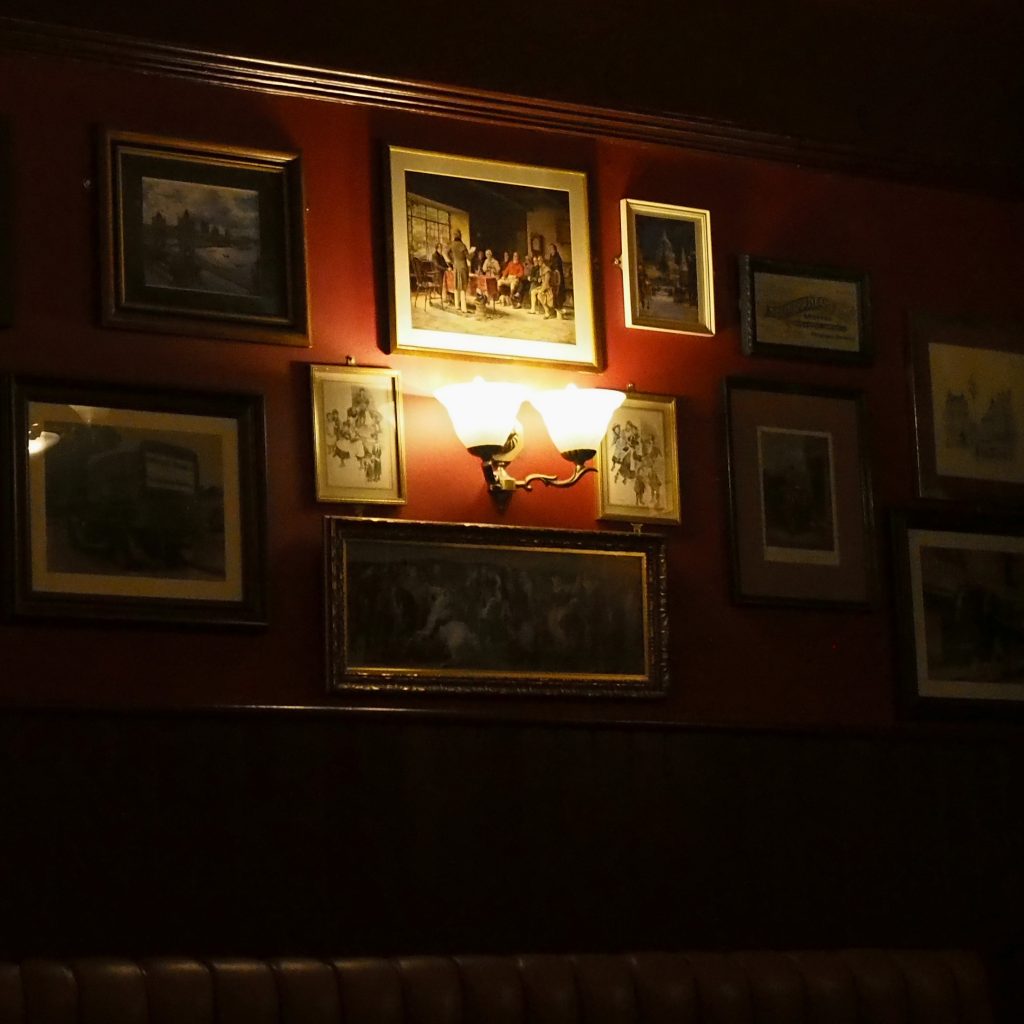 I dig it – the music on this night is a bit incongruous for my idealised Dickensian escape, but the lighting's low, the colours are right, the timber is solid, and I can imagine when that fireplace is lit up on a blustery winter's night it could transport you to another world (sans classic 90's rock – INXS – 'Need You Tonight').
I'll happily take you here.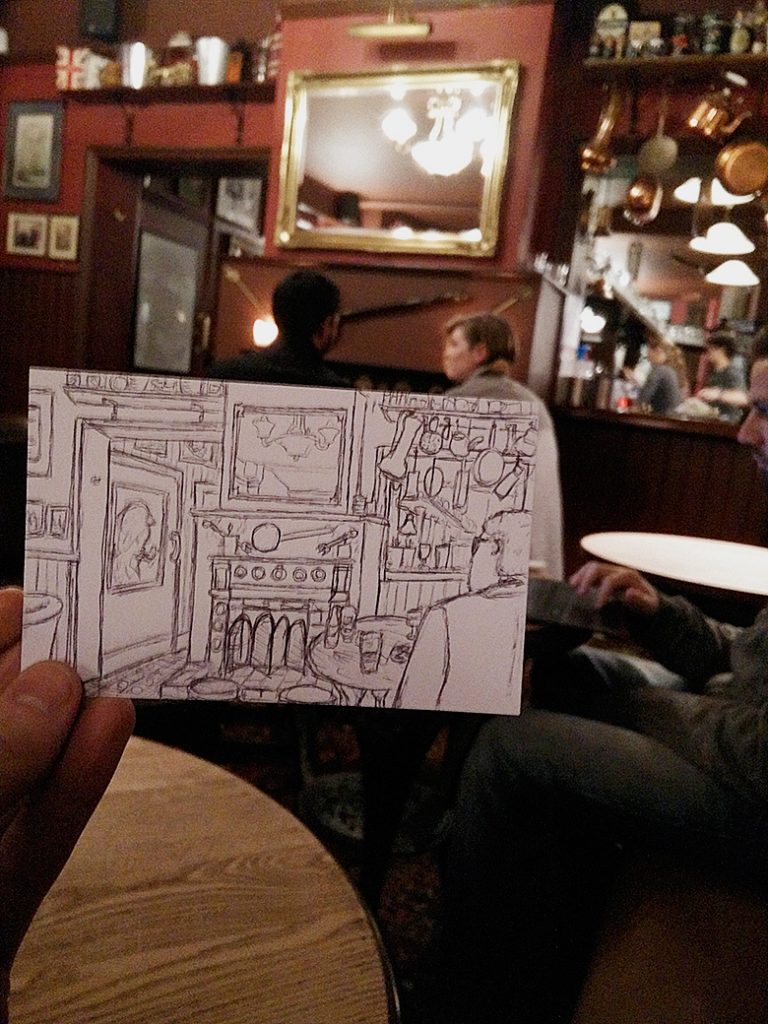 Kentish Ale – Master Brew, Shepherd Neame
£3.90
Real ale (hand pulled, no carbonation) – Very mellow, a bit watery, nice bitterness, a bit soapy (I don't think it's the glass)
6.5/10
Whitstable Bay, Pale Ale
£4.10
This is a go-to. It's charming, warming, light, inoffensive. Flavour is mild but it's there. You could knock this back, pint after pint, and be none the wiser until you bladder caught up.
7.5/10
Guinness
£4.5
It's been a while so I'm taken by surprise that the Guiness is cold. But of course it  is, it's supposed to be. The barman gave it the requisite pause, and it's – guinessy. Very yeasty, slight Vegemite taste to it. It's Guiness, what can I say?
7/10
*pre-drinks
PS. I actually went back the next week to do the sketch, since that was a new addition to the Thirsty Thursdays concept. All the tables were occupied the night I went back.