Balvenie Triple Cask 12 Year Old (travel retail exclusive)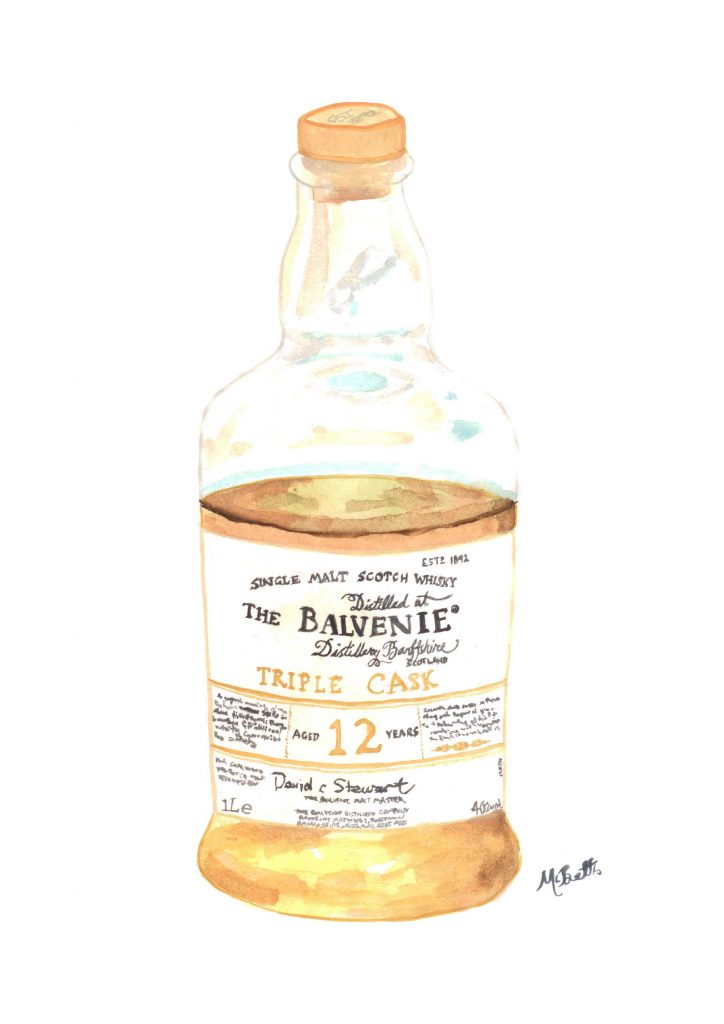 This post originally featured at watercolourwhisky.com
The Balvenie Triple Cask 12 Year Old (Travel Retail exclusive) is like Christmas in Australia. All the signs and symbols are there, it 'seems' Christmassy, but you can't shake the feeling that something's missing.
My exposure to Travel Retail (AKA Duty Free) releases tends to reflect this feeling: they're marketed/designed for a more casual whisky drinker, and tend to be a much lighter experience suitable for an introduction, rather than a savouring (that is, where they're not abominations against man and god – I'm looking at you, Old Pulteney Noss Head – review pending.)
For a whisky that's been matured in an Oloroso sherry cask, then a first fill bourbon, then a refill (the eponymous triple casks), they seem to have been more holiday flings than enduring marriages.
And so, we have all of the outward appearances of a hearty winter Christmas, with little of the follow-through. The nose suggests pudding, with sultanas and sherry coupling with sweet notes of marzipan and rosy, floral notes. It's light, though, barely more than a suggestion.
The taste continues the theme, with flavours of spiced rum and nutmeg imparting a sugary, pleasant taste that would be easy drink by the glassful (in a way that leads to photocopying one's arse at the end of year party/getting fired.)
But then it's over before it began.
The whisky faints away on the finish, lighter than daylight savings AEST. It just disappears. It's Santa in fur-trimmed shorts and thongs (flip flops.) Almost, but not quite.
All up, the Balvenie Triple Cask 12 Year Old is pleasant, but it's lacking, especially compared to the brilliance of some of the other Balvenies. This is no curling up by the fireplace as the snow blankets the streets outside, and alas, it's poorer for it. It's enjoyable, it's quaffable, but it's nothing to write home about – let alone depart from/fly back to.
– McBetts
Drink if you enjoy: the idea of spending large amounts on Johnnie Walker Blue or Chivas Regal 18 but don't have the coin; cold lagers that go warm too quickly; sweat and sunburn with your spiced wine, Doublewood Lite™
Don't drink if you enjoy: depth, roaring fireplaces, Game of Thrones.