Glenmorangie 10 Year Old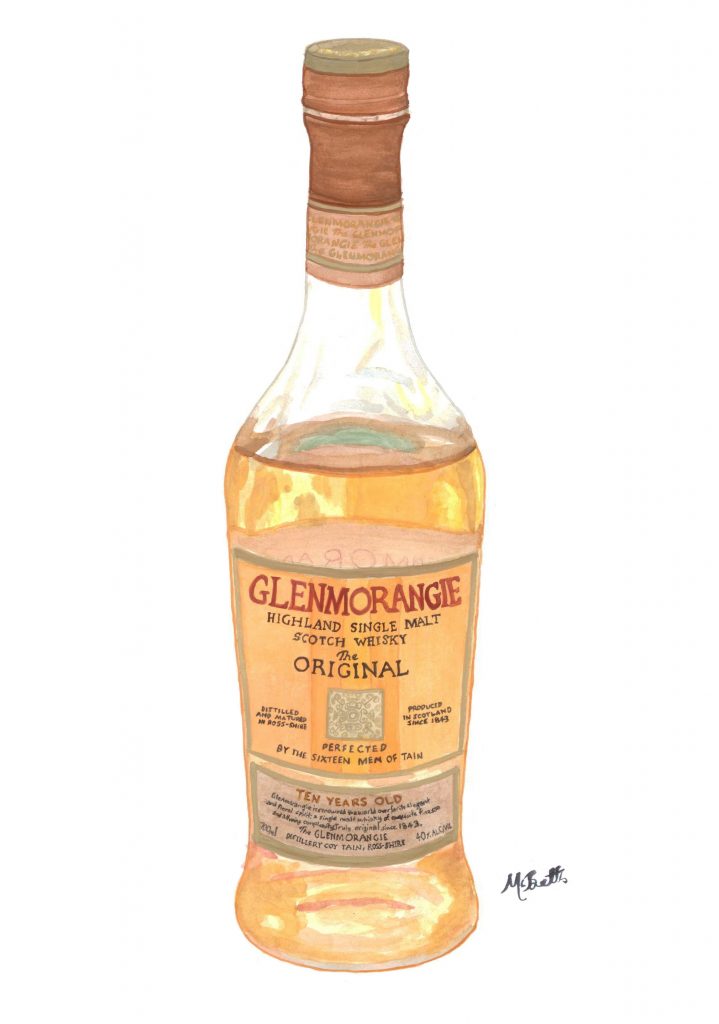 This post originally featured at watercolourwhisky.com
When the Glenmorangie 10 Years Old, a frumpy, unfashionable, bespectacled Highland ingénue, ditched the glasses, combed outthe hair, and slipped into some slinky new packaging, a sparkling transformation occurred. Finally, the radiant, beautiful, desirable beingwithin was reflected in the glamorous vision without.
Such, I imagine, was the intent at luxury behemoth Moët Hennessy – Louis Vuitton (or 'LMVH' if you're in the right circles,) when Glenmorangie was added to the portfolio in the mid-2000s. Bottles were reshaped, labels were redesigned, names were exotified. The extreme brand makeover that ensued transformed the humble best-selling single malt in Scotland from something your da hit up heavily when he was laid off his blue collar job, into a Baz Lurhmann wet dream. This new packaging was slinky, Frenchy, art-deco-y, and not skimpy on the metallic ink. Elegance. Sophistication. Luxury.
In four letters? LMVH.
Hilariously, at least to my mind, is the fact that under the shapely dress and well layered haircut, the Glenmorangie 10 remains the same frumpy, unfashionable, daggy spirit that was beloved by a country of frumpy, daggy, unfashionable people*.
For all its sleek sophisticated packaging, the Glenmorangie 10 remains thoroughly eighties to me, both the decade, and the demographic. Oh sure, the nose has a nice, delicate, floral aroma, but you know what it shares that with? Your gran's front yard.
And to grandma's house we go on the taste – a strong sweet coconut hit with dried apricot and brandy. We're in slice territory here, and… it's lovely. It's mild on the tongue without being shy – a little bit of heat, like a comfortable knit sweater.
The flavours build on the finish, with a chocolatey heft of rum-and-raisin, lovingly crafted perhaps into a rum ball, yesteryear's height of dessert-time sophistication**.
There's an ever so subtle tartness that lingers high on the palette, but overall, it's sweet and mild, with a medium-length linger.
If I'm perfectly honest, it took me a while to truly appreciate this drop for what it was. In the peat-fuelled haze of my jock-like whisky youth, the Glenmorangie 10 was a bit of a joke. Now, as a worldly grey-haired*** man of some experience, I see that, despite the flashiness of its packaging, it's actually a really lovely, light whisky, with a bit of character to it.
Glamourous? No. Elegant? In a way. Charming? Absolutely.
The Glenmorangie 10 is a great introductory whisky, and an old friend to return to whenever the mood takes you. Despite its luxurious overtures, it remains a (relatively) cheap whisky, regularly discounted at the lower end of the price range. If you're just starting out on your journey, consider adding this to your early rotation. Like me, you might find it ends up with a permanent home on your shelf.
– McBetts
P.S. If anyone can get one of the old bottles to me I'd love to paint it. I've already painted the 'Quinta Ruban', née, Port Wood, and would love to do a full range side-by-side comparison.
Drink it if you superficially enjoy: Lurhmann's Great Gatsby/Red Curtain Trilogy (ignore Australia: nobody liked Australia), the golden-bronze decadence of Ancient Egyptian artefacts, being seen drinking whisky but not actually liking whisky
Drink it if you enjoy: gentle introductory whiskies, 80's week on Masterchef (is that a thing? I assume that's a thing), Still Game, sweets from your gran named Mavis or Gwenda
* www.youtube.com/watch?v=tbNlMtqrYS0
**Back when coconut carried a touch of the exotic, people thought 'pistachio' was an Italian renaissance artist and caramel was the poor man's 'any other dessert'.
***In fairness I had grey hair when I started drinking whisky, like everything else I did after my 16th birthday. Thanks, Grandad****.
****No seriously, thanks. My hair is baller.