Bruichladdich Laddie Classic (Edition 1)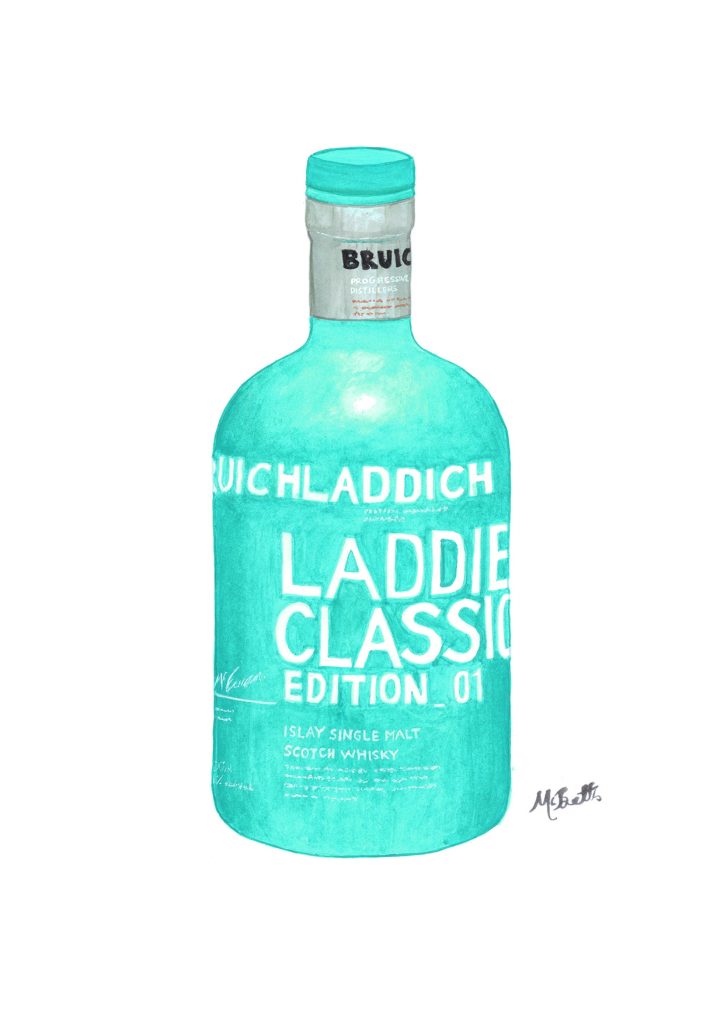 This post originally featured at watercolourwhisky.com
The Bruichladdich Laddie Classic is like a 1950s first aid kit in a log cabin. With a can of Glen20 accidentally thrown in by the props department. Conceptually, it's got a somewhat disjointed, anachronistic, 'marketing by committee' vibe to it. There's an incongruous meshing of ideas that I suppose is to be expected from a self-styled 'Progressive Hebridean Distillery', but it feels a little off the mark.
As should be abundantly clear by now I'm a superficial git who thinks tasting whisky is kind of just a sidenote in the whole whisky enthusiast endeavour, so let's start this review skin-deep.
The first thing you'll notice about the Laddie Classic is the highly unusual bottle – not so much the apothecary-inspired* form shared across the Bruichladdich range, but the opaque, bold, neomodern aquamarine design (the copy includes an underscore – seriously, an underscore on a whisky bottle!)
I've got to say it's… unappealing.
The clash of the old and the new, the ostentatious and the restrained, create a (deliberate) jarring effect. For instance, the self-conscious functionality of the capitalised sans-serif typeface says "I mean business", but the showiness of the bright opaque skin means you can't see how much of your whisky is left.  I'm all for self-conscious showiness, but I'm also a big fan of seeing how low I am in the bottle, so that I can stop drinking it near the end in an almost pathological aversion to finishing anything**.
Also, while The Teals is one of my favourite colour families, solid colours are an absolute bugger to paint with watercolours. Bruichladdich, in future, please be more considerate of my narrow artistic ability.
My other superficial bugbear is this expression's designation as 'Classic'. Now, as a bit of background, Bruichladdich was one of the distilleries that was mothballed in the nineties, and reopened in the early 2000s. Since that time they've been active as a fresher in halls***, pumping out more limited expressions, and trialling more experimental processes, than a back-alley Botox clinic (boom!)
There is a certain logic to clearly promoting your standard, baseline expression. It's particularly important when every second Tuesday you seem to release a new limited run like the 'Bruichladdic Barley-That's-Been-Hand-Picked-by-the-Surviving-1957-Aberdeen Dons-Squad', or the 'Bruichladdich Whisky-That-Was-Exclusively-Matured-in-Pedro-Ximénez-Casks-While-Orange-Juice's-Moderately-Successful-Third-Album-Rip-It-Up-Played-on-Loop-Every-Tuesday' Feis Isle special release.
However, 'Classic'?
Calling this the 'Laddie Classic' reminds me of the oxymoronic phrase 'instant classic', highlighted in this eponymous comic: http:/p/www.instantclassic.net/prologue/index.php?comic=45. There's a certain amount of chutzpah calling your new baby product a 'classic'. What's that? You're saying it's not about the timelessness, but some quintessential characteristic? Then why draw attention to the variability of batches by distinguishing between editions (the bottle I had was 'Edition_1')?
So, it's fair to say the branding of the Laddie Classic doesn't do it for me. Then again, I appreciate the desire to try new things, and new distilleries – even new old distilleries – need to substitute established ranges with whacky experiments (gimmicks) until they (re)build up their stocks. It is what it is.
So I probably should talk about the whisky itself?
Well, like I said, first-aid kit, log cabin, Glen20.
The nose: The Laddie Classic has quite a strong soapy nose to it. There's a mustiness, yet a tartness – a strong whiff of mashed barley, but also fresh soaked bandages with a hint of Dettol. It has a subtle sweetness beneath it, but to my nose it's slightly plastic-y, Glen20 flowers instead of fresh cut. I'm not particularly fond of the nose.
The palette takes a different turn – there's a fiery, peppery hit that's incredibly woodsy, strong oak flavours and a bit of tobacco. Again, a little bit medicinal, a little bit antiseptic, but much more grounded. There's also a sweetness at the back of those dominant flavours, a rich burnt toffee, but it's a second order character.
The transition from palette to finish is a gradual shift, with the burnt toffee emerging much stronger (antiseptic hint remaining slightly). However, as the flavours settle you reach the best part of this whisky – the texture of the finish. The Laddie Classic has a tactile, chewy finish. There's a lingering warmth that coats the back of your throat, and, while it doesn't carry all the way down to warm the chest, I literally found myself chewing it over. A bit unusual, but I really enjoyed the sensation.
All up, while I found myself champing at the finish of the Laddie Classic, I'm not quite champing at the bit for Edition_2. I will say that it's a grower, not a show-er, and the more I had, the more I came to enjoy it after a not-so-enthusiastic introduction.
Instant classic? Not quite. It's interesting, though, and that's something.
– McBetts
Try it if you like: This years' summer fashions, young and brash whiskies, a calmer sort of Brew Dog marketing.
Avoid if you dislike: oxymorons, the colour aquamarine, the architecture of Frank Gehry.
*Bruichladdich is at the more extreme end of the medicinal/chode bottle family that includes the likes of Kilchoman and Dalwhinnie).
**It's not so much an issue with regular expressions that can be replaced, but with limited editions, as long as there's a dram left I can never run out.
***'Freshman in dorm', 'first year at college' etc.