Glenkinchie 12 Year Old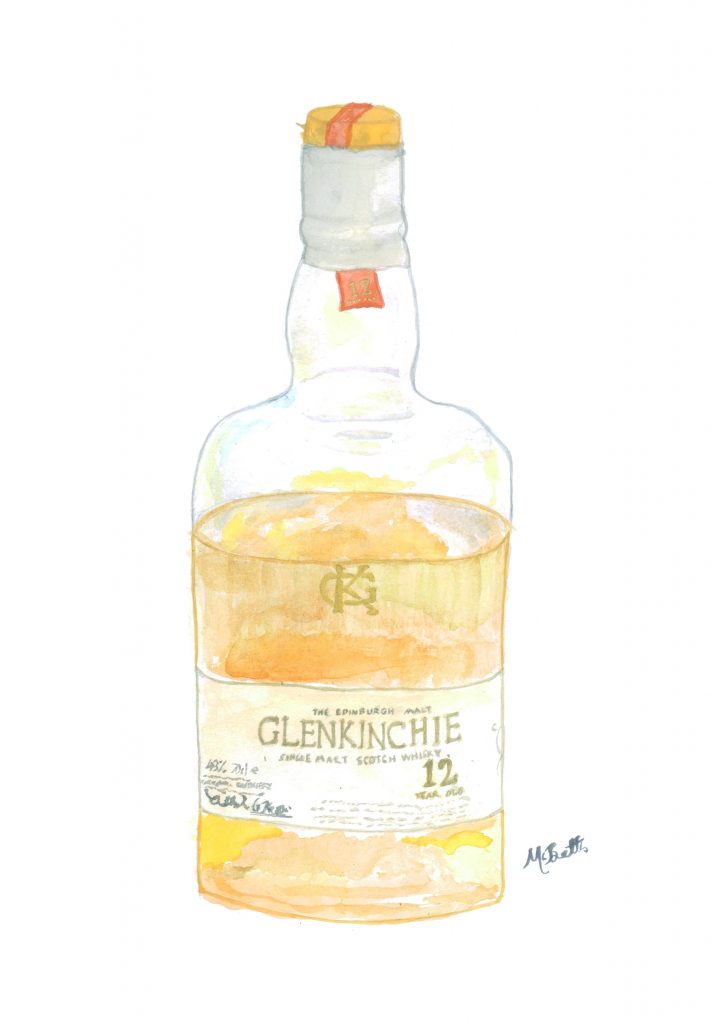 This post originally featured at watercolourwhisky.com
The Glenkinchie 12 Year Old is not so much about the 'birds and the bees' as it is the 'bears and the bees'. It's got an A. A. Milne 'springtime meadow on the edge of the woods' vibe to it.
The whisky is one of the relatively less common lowlanders (the lowlands have just three functioning distilleries at present, though there are more in the offing), and a bit of an uncommon sight in non-specialist bars and shops (despite it being global drinks giant Diageo's lowland 'Classic Malt'.) That's a shame, because it's really quite pleasant.
The nose of the Glenkinchie* 12 begins with a healthy dollop of Pooh's honey and a squeeze of fresh zingy lemon, mixed with floral heather and spring blossoms. It's bright, yet languid – the work of fat bumblebees rather than their more frenetic European cousins.
The honey carries over to the taste, beginning quite sweet with a slice of cucumber freshness, but morphing into a dramatically more herbal, woodsy profile. Peppery nasturtiums, marjoram and chamomile help transform the whisky into something resembling a very dry white wine, underpinned by strong oak flavours.
The finish sees those heavier wooden flavours come to the forefront, laced with a stronger peppery herb such as tarragon. As that recedes, some of the sweetness returns, leaving a lovely medicinal, herbal residue.
I quite like the Glenkinchie 12. I could see it making it into my rotation if it was just a tad cheaper. As you can tell from these descriptions though, it falls a bit shy of 'love', which, at its price point, is a problem. I think it's an above-average whisky, but for me it's not quite exceptional, and so it doesn't achieve the status of 'fixture' on my shelf.
The Glenkinchie 12 is probably the kind of folksy home-remedy perpetually bummed Eeyore whiles away the lonely nights with. It will cure neither the common cold nor clinical depression, but it may, just may, make the world of world-weary sad-asses seem that little bit brighter. Would recommend.
– McBetts
Try it if you enjoy: butterflies, sad donkeys, treating medical conditions with honey and lemon in hot water, treating existential conditions with alcohol
Don't try it if you like: industrialisation, economic rationalism
* Every time I read or hear the name 'Glenkinchie', I hear Homer's voice yelling "Mr Pinchy!"